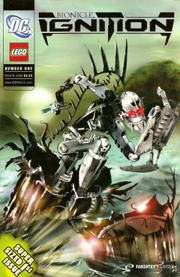 BIONICLE: Ignition was the second volume of the original BIONICLE comic series. It ran from 2006 through 2008, and consisted of issues 0 through 15. These issues told the story of the Toa Inika/Toa Mahri's fight to save the life of Mata Nui, and how the Toa Mata/Toa Nuva finally awakened the Great Spirit.
Issues
2006
2007
Sea of Darkness:
2008
Battle for Power:
Other
Collections
Community content is available under
CC-BY-SA
unless otherwise noted.