This is a list of all of the BIONICLE Sets.
Types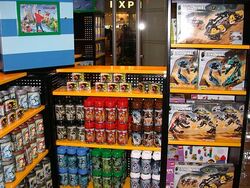 Canister sets (2001-2010, 2015-2016) - Basic sized sets sold in plastic canisters. They come in groups of six, although nowadays there is more than one set of six. In fact, there have been two series of canisters every year except 2001 and 2010, the first and last years of the original BIONICLE saga. They are priced $6.99 to $12.99 or £4.99 to £10.99. Usually include a team of Toa, or team of major characters. Most popular. As of 2015, Canister sized sets came in boxes.
Box sets (2001-2007, 2015-2016) - Smaller sets that come in small boxes. Sold in groups of six, with the exception of 2007, in which there were only four. This was also the last collection before the boxes were replaced by small canisters in 2008. Their prices are from $2.99 to $7.99 or £1.99 to £3.99 Usually includes Matoran, or other minor characters. With the return of BIONICLE in 2015, both Canister and Box sized sets were packed in boxes.
Titans or Warriors (2001-2009, 2015-2016) - Big sets that come in large boxes, and occasionally include a special Box Set or Canister style set. Normally priced between $15 and $60 or £10.99 to £29.99. Some special sets, such as Karzahni and Kardas Dragon were once over $95 (£60), but then reduced to their final prices. Usually include "boss" enemy characters, larger protagonists, or a smaller being such as a Toa with an accessory, such as a vehicle. In BIONICLE's reboot, there were similar sets that come in big boxes.
Collectibles (2001-2007) - The collectibles come in even smaller boxes than the previous stated Box sets, and also come in polybags. These sets have a number of extra collectibles. Normally, each year's sets also include that year's collectible, however, there was none after 2007's Squid. Priced around $2 or £1.50. Are often loaded into standard issue projectile launchers that are included with canisters sets.
Polybag sets (2001-2010, 2015-) - Small sets that come packed in small plastic bags, they usually are promotional, though in some cases, the collectibles may be packed in polybags.
Accessory Tubs (2004-2006) - Big tubs that contain a large amount of pieces. Sometimes they even contain exclusive or special pieces, though only six were released.
Playsets (2005-2007) - LEGO sets to the scale of traditional LEGO parts, introduced in 2005, discontinued after 2007. Included major battle scenes, with many characters as minifigures.
Small Canister Sets (2008-2009) - Small sets that come in miniature canisters that were introduced in 2008 as a replacement for the Box sets. The only two collections were the 2008 Matoran and 2009 Agori.
Vehicles (2008-2009) - Sets that include vehicles and a pilot or pilots. Their size ranges from the small Cendox V1 to the titanic Skopio XV-1. Their prices can range from $20 all the way to $90. Vehicles were released as a series in summer 2008 and 2009.
2001
Extra
Turaga (Kabaya Versions)

1418 Turaga Matau
1419 Turaga Nokama
1420 Turaga Nuju

These versions are packed with Kabaya sweets in Japan.
Onewa and Whenua do not have a Kabaya version.

Because of this, all four could be combined to make a Turaga Kaita as well as a promotion.

8546 PowerPack

Contained new McDonalds Promotional Matoran style model, Hafu, a silver Rua, CD, Bamboo Disk with image of a Hau.

LEGOLAND California Hau Set

Contained a brick-built Kanohi Hau, was only obtainable in LEGOLAND California.

Copper Masks of Victory

Were obtainable in LEGOLAND Billund.
2002
Titans

8556 Boxor

Included a new McDonalds Promotional Matoran style set, Nuparu, and instructions for an alternate model, which was not included in the storyline.

8557 Exo-Toa

Certain Toa Mata or Toa Nuva sets could be placed inside the set, by flipping the head back, pressing the orange button in the center and taking the rubber bands off of pieces on the legs, for footholds.
Included instructions for an alternate model, dubbed the "Exo Raptor". The Alternate model was not included in the storyline.
Extra

10023 BIONICLE Master Builder Set.

You may build 15 models with 113 pieces.

1441 Fikou

Though not promotional in the US, this set was given out free in 2003 when purchasing Bohrok-Kal sets from Carrefour stores in Belgium.
2003
Extra

Bohrok Va (Kabaya Versions)
1431 Tahnok Va
1432 Nuhvok Va
1433 Gahlok Va
1434 Lehvak Va
4228383 Vakama Promotional Set

Promotional pack given free with purchase of the Bionicle: Mask Of Light DVD (RRP £15.99) at Woolworth stores. Includes 1417 Vakama (Bagged), poisoned Tahu Nuva mask, and Rahkshi comic book. (UK)
2004
Collectible

8613 Kanoka Disk Launcher Pack
Extra

3259 Kanoka Disk Launcher + Kanoka Disk

Released as a promotional set in France with a BIONICLE comic book.
Contained a random Kanoka Disk Launcher and a Kanoka Disk.

8711 Master Accessory Kit

Contained 702 pieces in a big jar. It is the first and biggest BIONICLE accessory tub released.
2005
Extra

6637 Ultimate Battle Set

Contained 4 BIONICLE sets.

8715 Ultimate Creatures Accessory Set
Ultimate BIONICLE Accessory Kit
2006
Voya Nui Resistance Team (Box Sets)
Playsets

8892 Piraka Outpost
8893 Lava Chamber Gate
8894 Piraka Stronghold
8624 Race for the Mask of Life
2007
2008
Toa/Makuta Phantoka (Canisters)
Toa/Makuta Mistika (Canisters)
2009
Glatorian Legends (Canisters)
Other

20012 Click (Not available in the USA, except via BrickMaster)
2010
BIONICLE Stars (Canister Sets)
2015
It should be noted that the 2015 sets were significantly simpler then prior sets.
2016
Uniters/Toa (Box Sets)

71305 Lewa, Uniter of Jungle
71306 Potahu, Uniter of Stone
71307 Gali, Uniter of Water
71308, Tahu, Uniter of Fire
71309, Onua, Uniter of Earth
71311, Kopaka and Melum - Unity Set

Each Uniter can combine with their respective Creature.
Creatures (Box Sets)

71300 Uxar, Creature of Jungle
71301 Ketar, Creature of Stone
71302 Akida, Creature of Water
71303 Ikir, Creature of Fire
71304 Terak, Creature of Earth
Melum Creature of Ice comes with Kopaka

Each Creature can combine with their respective Toa.
Other (Box Sets)

71310 Umarak the Hunter

Lord of Skull Spiders, Mask Maker Vs. Skull Grinder, Umarak the Hunter, Umarak the Destroyer, Ikir, Tahu Uniter and Onua Uniter could be combined to form Makuta (2015).

Extra