Barraki Teaser Game

Online Game Information
Availability
Retired
Platform
Online, BIONICLE.com
Controls
Mouse
The Barraki Teaser Game was a teaser game posted on BIONICLE.com before its first 2007 update to promote the Barraki sets.
Gameplay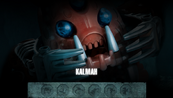 In this game, the player controls a light which is used to find six doors with a octagonal niche on each. In the surrounding environment, the player finds a stone with a symbol that represents a Barraki. Each symbol collected is shown at a bar at the bottom of the screen. When the correct stone was fit into in the relating door, the door will open and one of the Barraki will appear with their respective name. The Barraki will then hide and the Barraki logo will appear. A new symbol became available every day until all of the Barraki were featured, after which the player is transported to the newly updated BIONICLE.com. Since the game was to promote the 2007 update of BIONICLE.com there is no longer any gameplay.
Symbols
Each figure in the octagonal stones represents one of the Barraki:
External links
Community content is available under
CC-BY-SA
unless otherwise noted.