Bohrok-Kal Kaita Ja was a merged being formed by the combination of Kohrak-Kal, Lehvak-Kal and Gahlok-Kal.
History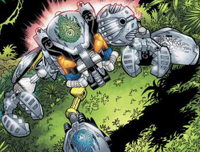 During a battle between Lehvak-Kal and Kopaka, Lewa, and Gali Nuva, The Toa Nuva formed their respective Kaita, Wairuha Nuva. Without hesitation, Lehvak-Kal sent out a signal, responded to by Gahlok-Kal and Kohrak-Kal. The three then merged into the Bohrok-Kal Kaita Ja, which quickly defeated the Toa Nuva Kaita with a single blast from its elemental powers. Afterward, the fusion then split back into the individual Bohrok-Kal.
Personality and Traits
The Bohrok-Kal Kaita Ja retained the arrogant personality shared by the Bohrok-Kal that formed it.
Powers and Equipment
The Bohrok-Kal Kaita Ja was controlled by the Krana-Kal Ja-Kal and possessed the Elemental powers of Magnetism, Vacuum, and Sonics. To channel these powers, it carried the pair of Vacuum Shields wielded by Lehvak-Kal.
Set Information
The Bohrok-Kal Kaita Ja could be built out of Bohrok-Kal sets Lehvak-Kal, Kohrak-Kal, and Gahlok-Kal using instructions divided between their instruction booklets. Its head, constructed differently from that of a normal Bohrok or Bohrok-Kal, could still be thrust forward by pressing a lever on its back.
Appearances
External Links