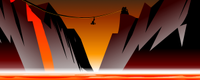 The Cable Car was a machine which could take Matoran from Ta-Wahi to Ko-Wahi and vice versa. There was a long cable from a cliff of Ta-Wahi to the snowy mountains of Ko-Wahi. The machine was guarded by a Ta-Matoran guard in the Ta-Wahi side. An Ta-Koro Ensign Badge had to be shown in order to get to ride the cable. In Mata Nui Online Game, Takua rode the machine.
The machine has appeared nowhere else than the Mata Nui Online Game.
Community content is available under
CC-BY-SA
unless otherwise noted.