Mask of Life, Mask of Doom was the seventh issue of the relaunched BIONICLE: Ignition series and part two of the Sea of Darkness sub-series. It was originally mailed with the March/April 2007 edition of the LEGO Club Magazine, and was later collected in BIONICLE 6: The Underwater City. This comic revolved around the Barraki's attempts to find the Mask of Life.
Plot
The Barraki have gathered together at the Razor Whale's Teeth. Pridak insists that they group find the Mask of Life for themselves. Carapar doesn't see the point of acquiring the mask, but Takadox dismisses him. Kalmah reminds the others that with the Mask of Life's power, they will be able to reverse the mutations done to them. Ehlek and Mantax suggest the group split up to cover more ground. However, what the warlords don't realize is that someone else has already found the mask...a Po-Matoran named Dekar. Afraid of its power, the Matoran resolves to destroy the Kanohi. Looking for answers, Takadox visits Nocturn, a fellow escaped prisoner. The four-armed brute threatens him, but the blue Barraki simply uses his hypnotic ability to gain an ally in his search. Pridak interrogate captured Matoran to learn about the mask's location.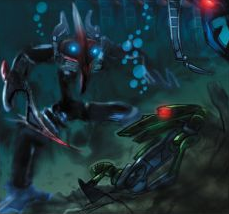 Meanwhile, Ehlek uses the search as an excuse to launch an attack on the Matoran community of Mahri Nui, even as Takadox looks for something very different on the sea bottom. Kalmah catches and confronts him, demanding to know why the Barraki isn't looking for the Mask of Life. Takadox reveals that every night Mantax secretly investigates a subterranean chasm. The two villains him, suspicious that their ally may have already found and hidden away the Mask of Life. Once inside, someone seals off the entrance, trapping all three within the wreckage of the Pit. The bad situation rapidly grows worse as Kalmah reveals that the monstrous Zyglak also live within these ruins, and with the landslide, they have come to investigate as well, and kill the intruders!
To be continued...
Credits
Appearances
Characters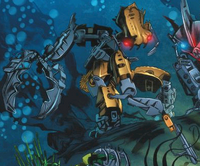 Locations
Objects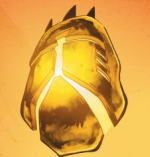 Organizations
Miscellanea
Quotes
Extra Features
Comic middle: Revenge of the Barraki! section discusses sets 8916 Takadox, 8917 Kalmah, 8918 Carapar, 8919 Mantax, 8920 Ehlek, and 8921 Pridak.
Rear cover: Darkness Waits in the Deep section advertises the Wal-Mart-exclusive Nocturn set.
Notes
Continuity
This issue takes place concurrently with BIONICLE Legends 6: City of the Lost.
This comic marks the first appearance of the Barraki's lieutenant, Nocturn.
Errors
On page four, one of Takadox's dialogue lines is mistakenly attributed to Pridak instead.
Trivia
While this comic was originally advertised in the previous comic as Mask of Life, Mask of Death, its final title was changed instead to Mask of Life, Mask of Doom.
See Also
External Links
Community content is available under
CC-BY-SA
unless otherwise noted.