Dear Hewkii...

Some of the contents of this article are non-canon, meaning that they are not a part of the BIONICLE story. Be warned that this article is about as true as Maku's love for Hewkii.
Command Toa Kongu

Online Game Information
Availability
Available
Platform
Online, BIONICLE.com
Controls
Directional keys and Space
The Command Toa Kongu game was the third Command The Toa Mahri game released on August 13, 2007.
Gameplay
There are 6 levels, in which the player is Kongu, using his Cordak Blasters to propel himself through the water. The player tries to avoid walls and enemies. Touching them causes the life bar to decrease. The object of the game is to collect the 6 Cordak Missiles, 1 from each level.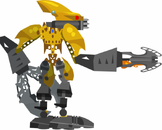 Controls
Left and right arrow keys: tilt Kongu.
Up and spacebar: propel Kongu.
Clips
Beginning: Kongu is out of Cordak ammo, so he tries a new way to use his blasters: Propelling him through to water. He then sees a Cordak missile and goes after it.
Ending: Kongu blasts all 6 Cordak missiles and fires them at the enemies.
Losing: Kongu tries propelling himself more and is out of air. He then sinks into the abyss.
Enemies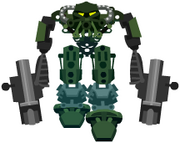 Objects
Whirlpools: Pull Kongu in. He can get stuck in these.
Minions
Main Enemies
Scoring
The first five levels are scored solely on:
The sixth is scored on:
Cheats
The Mask of Life cheat is QUX, which makes it so that if Kongu touches an enemy, a giant sea beast eats them.
Pressing 1,2,3, and 4 at he same time causes the game to say "cheater", and cheat mode to be activated.
1=Win Level
2=Go Back A Level
3=Regenerate Health
4=Activate the Ignika
External Link
Community content is available under
CC-BY-SA
unless otherwise noted.