Earthquake Hammer

Weapon Information
Power
Earth
Function
Melee combat, tunneling
User(s)
Onua
Status
replaced

The Earthquake Hammer was a weapon wielded by Onua, Master of Earth, and doubled as his Turbo Shovelers.
Functionality
As the Earthquake Hammer: The Earthquake Hammer could, when slammed into the ground, cause the ground to crack and break, therefore creating an small, controlled earthquakes.
As the Turbo Shovelers: The Turbo Shovelers could dig through earth quite easily.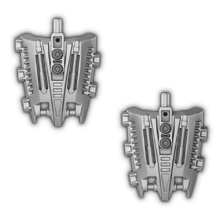 Users
Usage
Onua first used the Turbo Shovelers to dig through the Region of Earth, so he could find his Golden Mask of Earth. Once he obtained the mask, the Turbo Shovelers then formed the Earthquake Hammer, which Onua used to ward off a horde of Skull Spiders and defend the Protector of Earth.
Later, at the Ancient City, Onua used the hammer to sent the Lord of Skull Spiders falling to his presumed death.
Set Information
The Earthquake Hammer came with Onua, and consisted of 17 of the sets 108 pieces.
Community content is available under
CC-BY-SA
unless otherwise noted.