Elemental Ice Blaster

Weapon Information
Power
Ice
Function
Ranged combat
User(s)
Izotor, Kopaka
Status
In use
The Elemental Ice Blaster was a frost-powered ranged weapon initially wielded by Izotor. Kopaka also used this weapon, and later acquired his own armor-plated version.
Functionality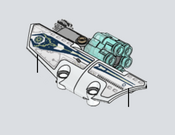 The Elemental Ice Blaster was capable of freezing targets to the spot.
Users
Community content is available under
CC-BY-SA
unless otherwise noted.