Fikou

Species Information
Group
Land Rahi
Colors
Orange, Black
Weapons
Teeth
Species Status
Unknown
Pronunciation
fee-KOO



Fikou were dangerous tree spider Rahi commonly found in Le-Wahi vines, Le-Metru chutes, and Onu-Metru. It came in orange and black coloring, with the orange ones being found in Le-Wahi more commonly. A variety with pincers and a stinger had been seen on Voya Nui. Fikou communicate using chirping sounds. They are best known for spinning incredibly intricate webs and jumping out suddenly at passing prey.
Set Information
The Fikou was one of the models you could build in the BIONICLE Master Builder Set.
The Fikou was released in 2002; its set number was 1441.
The Fikou contained 13 pieces.
It could be built out of the Toa Mata sets Pohatu and Onua to make a black Fikou.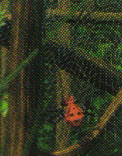 Trivia
Several Fikou can be seen in almost every level in Bionicle Heroes except from Piraka boss levels.
They are known to pester their victims to death.
In the game BIONICLE: Quest for the Toa blue Fikou crawl out of the ground.