Fikou

Species Information
Group
Land Rahi
Colors
Orange, Black
Weapons
Teeth
Species Status
Unknown
Pronunciation
fee-KOO




Fikou were dangerous tree spider Rahi that were commonly found in Le-Wahi vines, Le-Metru chutes, and Onu-Metru. It came in orange and black coloring, with the orange ones being found in Le-Wahi more commonly. A variety with pincers and a stinger had been seen on Voya Nui. Fikou communicate using chirping sounds.
Set Information
The Fikou is one of the models you can build in the BIONICLE Master Builder Set.
Each Fikou set has a Kanohi Pakari.
The Kanohi Pakari is the back of the Fikou spiders.
The Fikou was released in 2002.
It's set number was 1441.
The Fikou contains 13 pieces.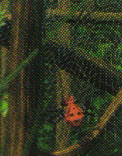 Community content is available under
CC-BY-SA
unless otherwise noted.