Fire Sword

Weapon Information
Power
None
Function
Channeling Elemental Energy, melee combat
User(s)
Toa Mata Tahu (currently)
Akamai (formerly)
Status
Original: Transformed into Magma Swords
Adaptive: In use
The Fire Sword was the tool used by Tahu as a Toa Mata. It allowed him to channel his elemental powers of Fire. When Tahu turned into a Toa Nuva, the Energized Protodermis transformed the Fire Sword into a pair of Magma Swords. He then got a new version back when the Kanohi Ignika turned him and his Adaptive Armor tools back into their original form.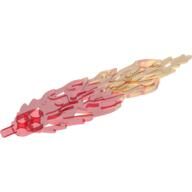 Set Information
The Fire Sword was originally released along with Tahu in 2001.
A large foam weapon toy called Toa Flame Sword was based off Tahu's old version of his Fire Sword; it was released in 2003 and its product number was 4237161.
A blue version of the same piece was included in the Berix set, released in 2009.
In 2010, a new version of the sword was included with the Tahu Stars set. The same piece had been used in 2009 as part of Ackar's Flame Sword.
Trivia
In BIONICLE Heroes, Toa Jaller uses the Fire Sword as his basic weapon, which can be upgraded into Vakama's Disk launcher.
Community content is available under
CC-BY-SA
unless otherwise noted.