Frost Shield

Weapon Information
Power
Ice
Function
Defensive combat, transportation
User(s)
Kopaka
Status
replaced
The Frost Shield was a weapon wielded by Kopaka. The shield could be split into two, allowing it to be used as a pair of Avalanche Skis.
Functionality
Edit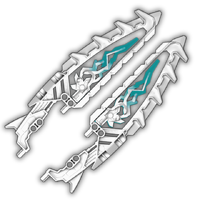 As Frost Shield: The Frost Shield could deflect almost any projectile or blow.
As Avalanche Skis: The Avalanche Skis could allow Kopaka to move quickly through even the toughest of blizzards.
Kopaka used his Frost Shield as the Avalanche Skies after he claimed his Golden Mask of Ice. After doing so, he took out many Skull Spiders who were about to attack the Protector of Ice. He then grabbed the Protector and formed the Frost Shield, creating a force field around him and the Protector.
He used his Avalanche Skies to get to the Ancient City, and in a confrontation with the Lord of Skull Spiders, used the Frost Shield to block a web shot from the latter's mouth.
Set Information
Edit
The Frost Shield came with Kopaka, and consisted of 10 of the set's 97 pieces.
Community content is available under
CC-BY-SA
unless otherwise noted.