Greg Farshtey is a real-life article

Greg Farshtey is not part of the BIONICLE storyline, which means that Greg Farshtey should not be used to support storyline details or other canon sources.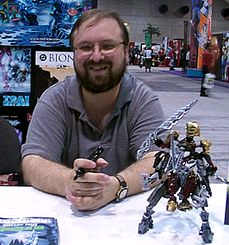 Gregory T. Farshtey is currently employed as the Editor in Chief for the Community Education Direct division of the LEGO Company. He writes the BIONICLE Books, comics, and web serials, and has done writing for the EXO-FORCE line as well. He has written 24 of the 28 BIONICLE books, including all of the BIONICLE Adventures and BIONICLE Legends series. He has also written a few non-BIONICLE books, and plans to continue working on non-BIONICLE writing in his freetime next year. In addition, he is an editor of the official LEGO Magazine. He is also a member on the LEGO Message Boards and a few BIONICLE fansites, including BZPower and MaskofDestiny, where he answers members' questions about the BIONICLE storyline and even kept a blog on BZPower to give behind-the-scenes information about the story and how it is made. He also wrote the Hero Factory books and is currently writing books and graphic novels for the Ninjago line as well.
BIONICLE Books Written