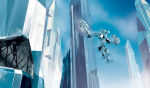 The Knowledge Towers were various of different towers, and they were located in Ko-Metru.
Their purpose was to act as a place for Ko-Matoran Scholars to work and study.
History
Nuju found his Toa Stone in the Knowledge Towers.
Also the Ko-Metru Great Disk was found in an icicle on a Knowledge Tower.
The Toa Hordika traveled to a Knowledge Tower to search for the Makoki Stones for Rahaga Norik,
Creation
Knowledge Towers were grown by tossing a knowledge crystal (the size of a Matoran's hand) into a special cradles located in various spots in Ko-Metru. The crystal then grows in a rapid pace until it stands along the older towers.
Tower layout
Each tower contained living quarters, libraries, observatories, special storage areas, and laboratories.
Appearances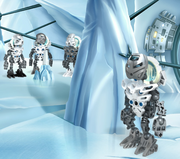 Trivia
Community content is available under
CC-BY-SA
unless otherwise noted.