Lake Kanae was a large body of water in Le-Wahi, located below the treetop village of Le-Koro.
History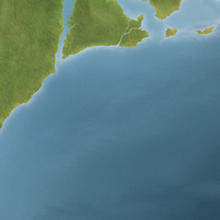 Lake Kanae, along with the rest of the island of Mata Nui was created when Makuta Teridax caused the Great Spirit to fall asleep and sink under Aqua Magna. As a result of Mata Nui's camouflage systems malfunctioning, a landmass was automatically created over his face.
The lake was ultimately destroyed by the Bohrok swarms after the Toa Nuva freed the Bahrag.
Community content is available under
CC-BY-SA
unless otherwise noted.