Niels Brinck is a real-life article

Niels Brinck is not part of the BIONICLE storyline, which means that Niels Brinck should not be used to support storyline details or other canon sources.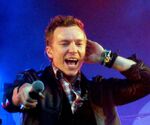 Niels Brinck Kristensen was the singer for 2007 and 2008 Cryoshell songs Face Me and Gravity Hurts.
Biography
Brinck was born in 1974 in Åbyhøj, Denmark. Before singing for Cryoshell, he was a solo artist and songwriter. His album, titled Brinck, was a Top 10 best in Danish albums. Another of his albums, "I Don't Want to Love Her", was on the Top 40 best albums. The year 2008 was a year of success for him, the same year he performed Gravity Hurts as a member of Cryoshell for BIONICLE.
Community content is available under
CC-BY-SA
unless otherwise noted.