Onepu was an Onu-Matoran Ussal champion.
History
Metru Nui
Onepu was an archivist on Metru Nui. However, he was too adventurous to wait for Rahi to be brought in by Vahki. His most famous expedition credited him with finding the first Bohrok. He also helped Mavrah with an experiment on ancient sea Rahi, but the experiment was later abandoned. He was eventually captured by the Vahki and placed in a Matoran Pod. Eventually, Onepu was brought to Mata Nui by the Toa Metru.
Mata Nui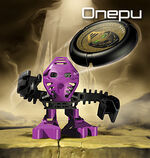 On Mata Nui, Onepu lived and worked in Onu-Koro as the captain of the Ussalry. He was also a very skilled Ussal Crab rider and once won the great race. He was also Whenua's right hand, and was called for advice many times. He was eventually rebuilt into a taller, stronger form at Kini-Nui. He was one of the Matoran that helped construct boats for the return trip to Metru Nui.
Return to Metru Nui
Following the Matoran's return to Metru Nui Onepu helped to rebuild the city until the Staff of Artakha did the rest of the work. He was also present during the ceremony for Matoro.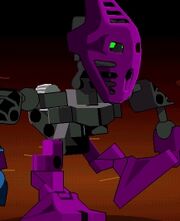 Spherus Magna
Sometime later he evacuated the Matoran Universe onto Spherus Magna.
Set Information
Trivia
Appearances
External Links