m

 

(21 intermediate revisions by 2 users not shown)
Line 1:
Line 1:
 
+

'''''Po'''''- was a [[Matoran Language|Matoran]] prefix meaning "stone". When used, it denoted that the object of its reference was associated with stone and/or the [[Elements|Element]] of [[Stone]] in particular. The prefix could also be incorporated into names.

−

'''Po-''' is a prefix in the [[Matoran Language]] meaning stone.

 
 
 
−

==Known Uses==

+

====

 
+

[[File:Pohatu8531 image4.jpg|thumb|250px|[[Pohatu]], [[Toa Mata]] of [[Stone]]]]

−
 
−

*[[Po-Koro]] - ''Village of Stone''

+

*[[Po-]] - ''Stone''

−

*[[Po-Wahi]] - ''Region of Stone''

+

*[[Po-]] - '' ''

−

*[[Po-Suva]] - ''Stone Shrine''

+

*[[Po-]] - ''Stone ''

−

*[[Po-Matoran]] - ''Matoran of Stone''

+

*[[Po-]] - '' ''

−

*[[Po-Metru]] - ''Stone City/Stone District''

+

*[[Po-]] - ''Stone ''

 
+

*[[Po-Wahi]] - ''Stone region''

 
+

*[[Pahrak]] - The name of Stone [[Bohrok]]

 
+

*[[Pahrak Va]] - The name of Stone [[Bohrok Va]]

 
+

*[[Pahrak-Kal]] - The name of elite Stone [[Bohrok]]

 
+

*[[Pohatu (2001)|Pohatu]] - The name of a [[Toa of Stone]]

 
 
 
+

{{Prefixes}}

 

[[Category:Matoran Language]]

 

[[Category:Matoran Language]]

 

[[Category:Matoran Universe]]

 

[[Category:Matoran Universe]]

 
+

[[Category:Elements]]

 
+

[[Category:2001]]

 
+

[[Category:2002]]

 
+

[[Category:2003]]

 
+

[[Category:2004]]

 
+

[[Category:Stone]]
---
Latest revision as of 00:48, 4 December 2014
Po- was a Matoran prefix meaning "stone". When used, it denoted that the object of its reference was associated with stone and/or the Element of Stone in particular. The prefix could also be incorporated into names.
Usages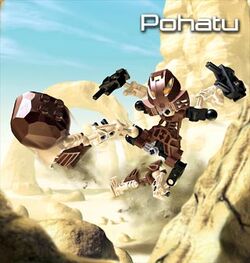 Elemental Prefixes
Regular Elements: Ta- • Ga- • Le- • Po- • Onu- • Ko-
Moral Elements: Av- • Kra-
Secondary Elements: Fe- • De- • Ba- • Ce- • Vo- • Su- • Fa- • Bo-
Community content is available under
CC-BY-SA
unless otherwise noted.