Line 2:
Line 2:
 
 
 

==A==

 

==A==

 
+

[[Image:Ancient_Sea_Behemoth.jpg|thumb|182px|Ancient Sea Behemoth]]

 

*[[Acid Fly]]

 

*[[Acid Fly]]

 

*[[Ancient Sea Behemoth]]

 

*[[Ancient Sea Behemoth]]

Line 11:
Line 12:
 
 
 

==B==

 

==B==

 
+

[[Image:Brakas.jpg|thumb|149px|Brakas, a monkey like, creature]]

 

*[[Blade Burrower]]

 

*[[Blade Burrower]]

 

*[[Boggarak]]

 

*[[Boggarak]]

Line 18:
Line 20:
 
 
 

==C==

 

==C==

 
+

[[Image:Chute_Lurker.jpg|thumb|163px|The Chute Lurker]]

 

*[[Cable Crawler]]

 

*[[Cable Crawler]]

 

*[[Caravan Crawler]]

 

*[[Caravan Crawler]]

Line 29:
Line 32:
 
 
 

==D==

 

==D==

 
+

[[Image:Dikapi.jpg|thumb|79px|Dikapi]]

 

*[[Dagger Spider]]

 

*[[Dagger Spider]]

 

*[[Daikau]]

 

*[[Daikau]]

Line 39:
Line 43:
 
 
 

==E==

 

==E==

 
+

[[Image:Spinax.PNG|thumb|186px|Spinax, the most well known Energy Hound]]

 

*[[Energy Hound]]

 

*[[Energy Hound]]

 
+

**[[Spinax]]

 
 
 

==F==

 

==F==

Line 56:
Line 62:
 
 
 

==G==

 

==G==

 
+

[[Image:Earthgafna.png|thumb|A Stone Gafna]]

 

*[[Gadunka]]

 

*[[Gadunka]]

 

*[[Gadunka (species)]]

 

*[[Gadunka (species)]]

 

*[[Gafna]]

 

*[[Gafna]]

 
+

**[[Air Gafna]]

 
+

**[[Water Gafna]]

 
+

**[[Earth Gafna]]

 
+

**[[Stone Gafna]]

 
+

**[[Ice Gafna]]

 
+

**[[Fire Gafna]]

 

*[[Gate Guardian]]

 

*[[Gate Guardian]]

 

*[[Ghekula]]

 

*[[Ghekula]]

Line 67:
Line 80:
 
 
 

==H==

 

==H==

 
+

[[Image:HotoVNOG.jpg|thumb|126px|Hoto Bug]]

 

*[[Hahnah]]

 

*[[Hahnah]]

 

*[[Hapaka]]

 

*[[Hapaka]]

Line 81:
Line 95:
 
 
 

==K==

 

==K==

 
+

[[Image:Kanera.jpg|thumb|159px|Kane-Ra]]

 

*[[Kahgarak]]

 

*[[Kahgarak]]

 

*[[Kahu]]

 

*[[Kahu]]

Line 105:
Line 120:
 
 
 

==L==

 

==L==

 
+
 

*[[Lava Ape]]

 

*[[Lava Ape]]

 

*[[Lava Crawler]]

 

*[[Lava Crawler]]
---
Revision as of 17:35, 19 January 2009
Rahi were the animals in the Matoran Universe. The word Rahi meant "beast" in an ancient Matoran dialect. Rahi lived anywhere in the Matoran Universe, from scorching heat, to freezing cold, to the deepest depths of the earth. All the factions in the Bionicle world had made use of Rahi, whether for transportation, corruption, or a supplement to their armies. The Rahi were originally made by the Brotherhood of Makuta to assist the Matoran in their work before the Brotherhood became corrupt.
A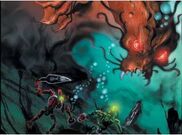 B

C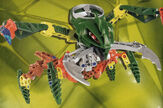 D

E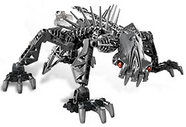 F
G

H
I
K
L
M
N
P
R
S
T
U
V
W
Z
Community content is available under
CC-BY-SA
unless otherwise noted.