The Saw Shield is a shield wielded by Ekimu.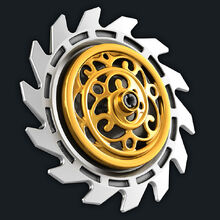 Functionality
The Saw Shield rotates to deflect incoming attacks. In Ekimu's first form, he holds the shield in his left hand, and has the ability to spin rapidly as shown in the animations, as well in the set.
When Ekimu changes to his Uniter/Toa form, the shield changes as well. The sawblade is now transparent-light-blue instead of silver and is flipped backwards. He wears the Saw Shield on his lower-left arm now, and it is no longer able to spin. Ekimu can unequip his shield to allow Agil to perch on his arm. It later changes back to the original form.
Wielders
Set Information
The Saw Shield came with set number 70795 Mask Maker vs. Skull Grinder, and took up eight of the set's 171 pieces.
The second rendition of the Saw Shield comes with 71312 Ekimu the Mask Maker. The shield itself took up 4 pieces and the clip takes up 3 pieces.
Community content is available under
CC-BY-SA
unless otherwise noted.