m (oops)

 

Line 1:
Line 1:
−

{{Weapon Infobox|[[File:Skrall_sword.png|250px]]||Offense|[[Skrall]], [[Branar]] |In Use|black|red}}

+

{{Weapon Infobox|[[File:Skrall_sword.png|250px]]||Offense|[[Skrall]], [[Branar]] |In Use|black|red}}

−

'''Saw Blade Shields''' were a type of sword commonly used by [[Skrall]]. They were often outfitted with a [[Thornax Launcher]] to be used as a offensive ranged weapon. The pattern on the side resembled part of a [[Valley of the Maze|maze]]. Some were a different shape and did not have the pattern on the side or the launcher.

 
 

[[File:Black Ice Sword.jpg|thumb|192x192px|A more simple version of the Skrall Sword]]

 

[[File:Black Ice Sword.jpg|thumb|192x192px|A more simple version of the Skrall Sword]]

 
 
Line 8:
Line 7:
 
 
 

==Set Information==

 

==Set Information==

−

*Three of the main sword pieces were released as part of the Skrall 8978 set, for both the blade and as shoulder armor. Versions of the piece with lime green cores were used on the other Skrall set, on [[Tuma]]'s back, and for [[Fero]]'s blade.

+

*Three of the main sword pieces were released as part of the Skrall 8978 set, for both the blade and as shoulder armor. Versions of the piece with lime green cores were used on the other Skrall set, on [[Tuma]]'s back, and for [[Fero]]'s blade.

−

*The set Skrall 7136 uses a black [[Ice Sword]] instead of the original blade

+

*The set Skrall 7136 uses a black [[Ice Sword]] instead of the original blade

 
+
 

{{Template:Glatorian Tools}}

 

{{Template:Glatorian Tools}}

 

[[Category:Weapons]]

 

[[Category:Weapons]]
---
Latest revision as of 00:59, 23 April 2019
Skrall Sword

Weapon Information
Power
Function
Offense
User(s)
Skrall, Branar
Status
In Use
Swords were commonly used by Skrall. They were often outfitted with a Thornax Launcher to be used as a offensive ranged weapon. The pattern on the side resembled part of a maze. Some were a different shape and did not have the pattern on the side or the launcher.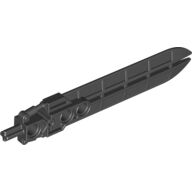 Known Users
Set Information
Three of the main sword pieces were released as part of the Skrall 8978 set, for both the blade and as shoulder armor. Versions of the piece with lime green cores were used on the other Skrall set, on Tuma's back, and for Fero's blade.
The set Stars Skrall 7136 uses a black Ice Sword instead of the original blade
Community content is available under
CC-BY-SA
unless otherwise noted.