Staff of Fragmentation

Weapon Information
Power
Fires explosive blasts, breaks up ground
Function
Weapon
User(s)
Panrahk
Status
'
The Staff of Fragmentation was a weapon used by Rahkshi Panrahk. It was capable of sending a "bomb" through the air, which they could remotely trigger. It also allowed them to shatter the ground wherever impaled, creating fissures.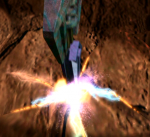 Community content is available under
CC-BY-SA
unless otherwise noted.