Staff of Light

Weapon Information
Power
None
Function
Channeling Elemental energy, playing Kolhii
User(s)
Takanuva (formerly)
Status
Lost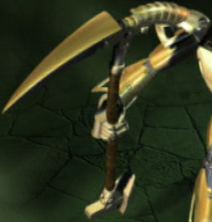 The Staff of Light was Takanuva's Toa Tool. Takua received it upon donning the Avohkii and becoming a Toa. It could channel Takanuva's power, and be used to play Kolhii. It was able to create flashes of light, a beam of concentrated light, and balls of light.
While in an alternate universe, Takanuva had his staff taken by Axonn, but it was soon replaced with a Power Lance.
Set Information
Edit
The Staff was included with the 2003 Titan set, Takanuva and Ussanui. The Staff was constructed with an axle and the blade piece. The Staff could be clipped onto Takanuva's back for storage.
In BIONICLE: Mask of Light, the Staff of Light had its blade at a right angle to the shaft and a hammer on the other end, making it resemble a combination of a scythe and an enlarged Kolhii staff. In the set and comics, the blade was parallel to the shaft, making the staff resemble a "Lochaber axe", and there was no hammer end. In either case, the blade resembled an "unfolded" version of the head of the Chronicler's Staff that Takua originally carried.
In Bionicle: The Game, the staff gave Takanuva a glide ability and had unlimited energy.