Stormerangs

Weapon Information
Power
Stone, Sand
Function
Ranged combat, aerial transportation
User(s)
Pohatu
Status
replaced
The Stormerangs were boomerang-like weapons used by Pohatu, Master of Stone. They could also be folded and attached to his feet as Jetarangs, allowing Pohatu to travel across the desert at great speeds.
Functionality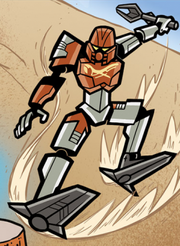 When thrown, the boomerang-like weapons generated sandstorms in their wake. When attached to his feet, they allowed Pohatu to hover above the ground.
Users
Usage
Pohatu originally used the Stormerans in their Jeterang state. When he claimed his Golden Mask of Stone, he used them as Stormerangs to defend the Protector of Stone from an oncoming attack of Skull Spiders.
Later, in a confrontation with the Lord of Skull Spiders, Pohatu threw one of his Stormerangs at the former, only for it to be deflected. It returned to him, and this time the Toa of Stone threw them both at the same time, hitting the Lord of Skull Spiders and disorienting him.
Set information
The Stormarangs/Jetarangs are to be included in 2015's 70785 Pohatu set. Each one uses four pieces: The two blade halves are connected on a hinge by a black friction pin, allowing the two pieces to switch between closed and open mode, and providing a means for the tools to be attached to Pohatu's feet. One of the blades on each is capped by a neon yellow Bohrok eye piece.
Community content is available under
CC-BY-SA
unless otherwise noted.