"
To save the island, each Toa had to collect six Kanohi Masks of Power. Their quest took them beneath the ocean...and to rivers of molten lava. The Toa even dared to challenge the might of Makuta's powerful beasts, the Rahi--risking all to save us!
"
Legends Part 1: Tale of the Toa was the first of a three-part mini-comic promotional series released in conjunction with McDonald's. Randomly selected card packets of BIONICLE: The Bohrok Awake also came packaged with this comic.
Opening
Armed with the krana, the key to the Bohrok's defeat, the Toa descend into the nest. There they will gain great power, confront a new menace to Mata Nui, and be transformed forever!
Plot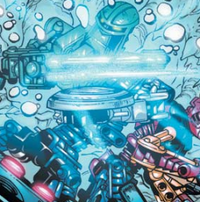 Turaga Nokama sits around a campfire, telling the Ga-Matoran legends of the Toa's heroic deeds. While Mata Nui was once an island paradise, Makuta afflicted it with darkness. When all seemed lost, the six Toa of legend finally appeared: Tahu, Kopaka, Gali, Lewa, Onua, and Pohatu. To increase their powers and fight Makuta, each hero sought out and acquired six Masks of Power. Their quest was not easy. Accomplishing this mission sent them all across the island, and brought them into conflict with Makuta's servants, the Rahi. Finally the Toa united their bodies and minds together to form the Toa Kaita, powerful beings able to battle the Manas toe-to-toe. After defeating Makuta, a new threat emerged: the Bohrok!
Credits
Appearances
Characters
Locations
Objects
Organizations
Miscellanea
Extra Features
Comic end: Rules for playing BIONICLE: The Bohrok Awake trading card game, subscription for a LEGO Club membership.
Rear cover: Advertisements for sets 8556 Boxor, 8557 Exo-Toa, and 8558 Cahdok and Gahdok.
See Also
Community content is available under
CC-BY-SA
unless otherwise noted.