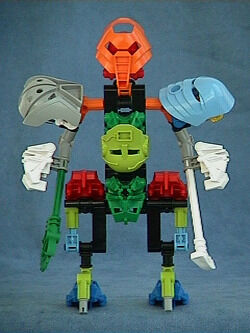 A Turaga Kaita was a hypothetical fusion between four Turaga of different Elements into a single, merged being.
Trivia
No Turaga Kaita have been seen in the storyline, but a set of them was released.
They are formed from four, not three, Turaga, unlike other Kaita.
One of, if not the only Kaita to use all the masks from the sets it was built from.
Set Information
A Kabaya promotion of the Turaga Kaita was released in 2001. It is a merger of the Turaga forms of Vakama, Nokama, Matau, and Nuju.
External Links