Twin Propellers

Weapon Information
Power
Adapting
Function
Channeling Elemental energy, melee combat, flight
User(s)
Toa Nuva Pohatu
Status
In use
The Twin Propellers are Toa Pohatu's Toa Tools when he became a Phantoka. They are made of the finest Protosteel and could rotate to keep Pohatu flying. Up close, they were strong enough to shatter an enemy's armor, even a Makuta's. They are also used to channel Pohatu's elemental power over Stone.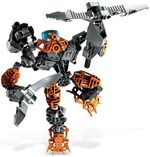 Set Information
The Twin Propellers are able to be rotated by spinning an axle piece that ran through the weapon.
The Twin Propellers are also able to be used as claws or drills by folding the blades.
Community content is available under
CC-BY-SA
unless otherwise noted.