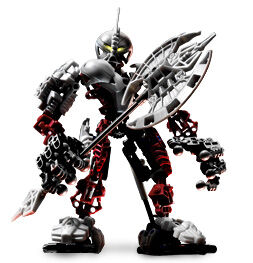 About me
I'm an avid Bionicle, Lego Star Wars, and Mindstorms fan. Axonn is my favorite character. I like pretty much all the characters. I have been a fan since 2004, and I own every story book and most guides from Bionicle.
==History==
I got my start in Bionicle in first grade when everyone was bringing those titans to school and battleing with them. I decided to buy my first Bioncile set, Nuhrii. I promptly got interested in the story line after reading Bionicle Adventures #8 about 30 times. During this time other Lego themes got most of my attention, though, such as Knights Kingdom and Exo-Force. After these themes ended though, Bionicle became what I concentrated almost all of my interest and money on. Then, in the spring of 2010, I was home from school for a while and decided to find some old Lego games. Then I searched "old Bioncile games" and discovered BS01 wiki. It had the games and information... but it was so large, it seemed that it was already perfect. I searched "Bionicle wikis" and found this one and loved it. After hanging around for a while and catching up on missed information and the podcasts (I don't have an ipod), I decided to join this wiki, a community full of other Bionicle Fans, like me.
My Sets
2001
Kongu
2002
Pahrak Va
Kohrak Va
Gahlok
2003
Onua Nuva
Thanok Red Rahkshi
Panrak Brown Rahkshi
Lerakh Green Rahkshi
Vohrak Black Rahkshi
2004
Nuhrii
Nuurakh 2
Bordakh 2
Rahi Builder Bin (tons of pieces)
2005
Suukorak
Keetongu
Sidorak
Pouks
Klause
Toa Norik
Toa Iruni
2006
Vezok
Thok
Reidak
Irnak Pack
Balta
Dalu
Kazi
Garan
Axonn
Brutaka
Vezon and Fenerrak
Jaller
Hahli
Hewkii
2007
Defilak
Dekar
Red Hydruka
Blue Hydruka
Kalmah
Takadox
Carapar
Pridak
Ehelk
Mantax
Nocturn
Kongu
Maxilos and Spinax
Toa Terrain Crawler
2008
Lewa
Antroz
Toa Ignika
Tanma
Radika
Icarrax
Tahu
Jetrax V6
Rockho V3
2009
Strakk
Skrall
Vastus
Ackar
Kiina
Thornatus V9
Skopio XV1
64 sets in total
Community content is available under
CC-BY-SA
unless otherwise noted.