| | |
| --- | --- |
| | The rating system has been indefinitely suspended. |
"
A Toa of Plasma could create and manipulate superheated matter at will by expending elemental energy. This ability to control plasma would have been useful in battle to melt any threat that would come a Toa's way. However, as Toa held to themselves not to kill all their enemies outright, Toa of Plasma would tend not to use a plasma attack directly against a living being.
"

–Kazi22
"
Who in their right mind makes a toy that breathes fire?!
"

–Kazi22
Status: In an Alternate Universe Far Far Far Far Far Far Far Far Far Far Away
"
Are there yet? Are we? I'm Tired. My Legs hurt. Can I go to the Bathroom? Roger you smell like Gas. I need to go to the Bathroom. Now I really do. Where are We? Can we turn on the Radio? I'm Bored.
"

–Kel from Kenan and Kel Two Heads Are Better Than None
Kazi22

Biographical Information
Species
Human? I hope so. Do you?
Group
Administrators
Mask
Calix
Colors
Red, Orange
Element/Powers
Plasma
Occupation
Administrator, Editor
Tools
Key-Board
Location
Earth
Pronunciation
Kah-zee
Siggies
Captain Kazi----- Talk
-Kazi22 Talk
That's Dr. Kazi to you!!----- Objection!
Cheers, Kazitan----- Talk
Your Leader Mr. Kazi----- Talk
Toa Kazi----- EDDIE!!!
Super Kazi----- It's a biggie beat
Lil Kazi----- My Dougie
Kazidii----- I Am Ordering!
Kazi Morgan----- I Am going to have to say YES!!!
Kazi Hassolhoff----- Hello and what's your name?
Kazi Taylor----- Why would I wash dishes before putting them into the dishwasher?
Kazit----- Gosh I'm excited!
Kazidee----- All those sweets are empty Calories
Kazi The Purple Dinosaur----- Barney Says
Kazi Kop----- I like apples and bananas
K.J.----- I like apples and bananas
General Kazi----- Talk
Kazi Jackson----- Stop Your PRESSURE!
My Stats
| | | |
| --- | --- | --- |
| Strength: | 40 | |
| Agility: | 30 | |
| Toughness: | 50 | |
| Mind: | 40 | |
Theories
The Toa of Plasma that was attacked by Zaktan will eventually be seen.
Eventually We will see a new Team of Toa with different elements such as Gravity, Plasma, Sonics, Iron, Plantlife, Magnetism, and Lightning.
More Toa of Plantlife have to exist.
More Toa of Gravity have to exist.
More Toa of Sonics have to exist.
More Toa of Magnetism have to exist.
More Toa of Psionics have to exist.
I believe that it is extremely likely that more male Toa of Psionics exists.
Another Toa of Light will exist.
Bo-Matoran have an immunity to plant-based toxins.
Fa-Matoran cannot be magnetized.
Su-Matoran would have a extreme resistance to Plasma and Heat.
Matoran/Toa/Turaga of Shadow could still be good if they had a mental barrier to keep their moral light inside them.
The Chronicler's Company Kapura, Kopeke, Kotu, Tamaru, Taipu, Onepu, Hafu, and Macku will be Toa someday.
The Voya Nui Resistance Group will someday become Toa.
Miserix still has some inner light.
Tahu might become a Nuva Again.
We may even see the other Toa Hagah as sets.
The Toa Mangai of Stone's name was Tiro.
The Toa Mangai of Earth was Hura.
Toa of Sand have to exist.
The Toa Mangai all had the metru styled armor like Lhikan.
Dume and the other Toa Evo had the Metru styled Armor.
Dume's Team is called the Toa Evo.
I theorize that Plantlife Prefix is Bo for Botany. And I was right!!!! Just like with VO!!!!!!!
Vacuum will be made into an Element and its colors are Green and White. Users can create and control suction (and, to an extent, pressure), shoot blasts of void, create a sort of shield to protect him/herself from elemental attacks (specifically Air and Fire), create explosion by making a vacuum inside of something (a boulder for example).
2001
Macku
Hewkii
Jaller
Onepu
Matoro
Kongu
Masks x7
Pohatu
Onua
Gali
Tahu
Lewa
Kopaka
Nui-Rama
Tarakava
Nui-Jaga
Vakama
Matau
Onewa
Nokama
Whenua
Nuju
2002
Gahlok Va x8
Kohrak Va
Lehvak Va
Pahrak Va
Tahnok Va
Nuhvok Va
Zorohk Va (made myself)
Tuhvok Va (Made Myself)
Boxor x6
Exo-Toa x2
Pahrak x2
Nuhvok x2
Gahlok x3
Tahnok x3
Lehvak x3
Kohrak x3
Zorohk (made myself)
Tuhvok (Made Myself)
Onua Nuva x2
Lewa Nuva x2
Pohatu Nuva x2
Gali Nuva x5
Kopaka Nuva x3
Tahu Nuva x2
Bahrag x2
2003
Gahlok-Kal x3
Nuhvok-Kal x3
Zorohk-Kal (made myself)
Tuhvok-Kal (Made Myself)
Tahnok-Kal x3
Kohrak-Kal x3
Lehvak-Kal x3
Pahrak-Kal x3
Panrahk x3
Kurahk x3
Lerahk x3
Guurahk x3
Vorahk x3
Turahk x3
Gahlok Va-Kal
Nuhvok Va-Kal
Tahnok Va-Kal
Kohrak Va-Kal
Lehvak Va-Kal
Pahrak Va-Kal
Zorohk Va-Kal (made myself)
Tuhvok Va-Kal (Made Myself)
Takanuva
Toa Nuva of Electricity (Made also nameless)
Jaller
Kopeke
Takua
Matoro
Hahli
Macku
Onepu
Kongu
2004
Toa Vakama x2
Toa Nokama x2
Toa Whenua x2
Toa Onewa x2
Toa Matau x2
Toa Nuju x2
Nuhrii x2
Vhisola x2
Tehutti x2
Ahkmou x2
Ehrye x2
Orkahm x2
Nuurakh x2
Bordakh x2
Zadakh x2
Rorzakh x2
Vorzakh x2
Keerakh x2
Toa Lhikan and Kikanalo
Turaga Dume
Nidhiki
Krekka
Toa Dume (Custom)
2005
Toa Nidhiki
Gaaki
Pouks
Kualus
Norik
Bomonga
Iruini
Toa Hordika Vakama
Toa Hordika Nokama
Toa Hordika Whenua
Toa Hordika Onewa
Toa Hordika Matau
Toa Hordika Nuju
Oohnorak
Keelerak
Keetongu
Sidorak
Roodaka
Toa Norik
Toa Iruini
Toa Kualus
Toa Pouks
Toa Bomonga
Toa Gaaki
2006
Irnakk
Velika
Kazi
Piruk
Garan
Balta
Dalu
Toa Jaller
Toa Hahli
Toa Nuparu x2
Toa Hewkii x4
Toa Kongu x2
Toa Matoro x2
Axonn
Brutaka
Vezon and Fenrakk
Hakann
Zaktan
Avak
Vezok
Reidak
Thok
Toa Jovan
2007
Toa Mahri Jaller
Toa Mahri Hewkii
Toa Mahri Kongu
Toa Mahri Nuparu
Toa Mahri Hahli
Toa Mahri Matoro
Takadox
Kalmah
Carapar
Mantax
Ehlek
Pridak
Gadunka
Hydraxon
Maxilos & Spinax
Defilak
Dekar
Sarda
Idris
Gar
Jouks (Fake Ko-Matoran)
Lesovikk
Nikila
2008
Toa Vahi
Toa Ignika
Toa Pohatu
Toa Lewa
Antroz
Vamprah
Chirox
Toa Kopaka
Solek
Photok
Toa of Plantlife x3
Toa of Plasma x4
Tanma
Toa of Lightning x4
Tahu Mistika
Gali Mistika
Onua Mistika
Toa Dozak (Toa of Ice)
Toa of Psychic x3
Toa of Gravity x3
Toa of Magnetism x3
Chirox
Antroz
Vamprah
Kirop
Mazeka
Radiak
Gavla
Icarax
Mutran
Rockoh T3
Axalara T9
2009
Tarix
Malum
Gresh
Strakk
Skrall
Vorox
Atakus
Tarduk
Raanu
Metus
Berix
Zesk
Vulcanus A Yellow Glatorian
Roxtus A Red and Black Glatorian
Tesara A Blue/Green Glatorian
Iconox A Silver Glatorian
Vastus
Mata Nui
Stroinus
Kiina
Atero A Blue/Green Glatorian
Scarab A Silver Glatorian
Exsidian A Yellow Glatorian
Gelu
Ackar
Tajunis A Red and Black Glatorian
Element Lord of Fire
Element Lord of Ice
Element Lord of Jungle
Element Lord of Water
Element Lord of Rock
Element Lord of Sand
Element Lord of Lightning
Element Lord of Plasma
Element Lord of Gravity
Element Lord of Iron
Element Lord of Psionics
Element Lord of Sound
2010
Tahu
Nektann
Rahkshi
Takanuva
Gresh
Skrall
Stars Ackar
Stars Tarix
Stars Vorox
Stars Gelu
Stars Malum
Stars Vastus
Stars Kiina
Stars Stronius
Stars Strakk
Stars Mata Nui
William Furno
Preston Stormer
Mark Surge
James Bubba
Michael Russell
Natalie Breeze
Jimi Stringer
Duncan Bulk x2
Vapour
Xplode
Meltdown
Corroder
Thunder
Von Nebula
Rotor
Snowflake
| | |
| --- | --- |
| | This user favorite Toa is Jovan. |
| | |
| --- | --- |
| | This user favorite Matoran is obviously Kazi. |
About Me
I am just your average 30 Year Old Christian Guy and I love helping others. I have been collecting Bionicles ever since they came out. And I know everything there is to know. I am the site leader of Bioniclepedia. [[1]] I am also the founder of [[2]] and [[3]]
| | |
| --- | --- |
| 822+ | This user has 822 Bionicle sets! |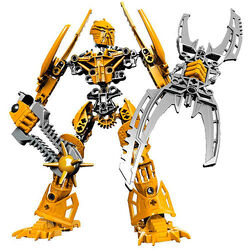 Community content is available under
CC-BY-SA
unless otherwise noted.