Who am I
I live in belgium and i am a huge fan of bionicle. I am 14.
Top 5
              1. Toa Lhikan
              2. Toa Vakama
              3. Malum 
              4. Toa Tahu
              5. Balta

Favorite places
Ta-Koro, Ta-Metru, Ta-Wahi, Vulcanus.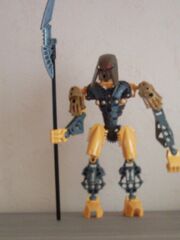 Quotes
Malum once said:
                  "The desert is a place of extremes. Blazing heat, chilling cold, fierce loyality ... and deep hatred.
                  The Skrall won't forget this day ... and to their bitter regret, neighter will I."

                  "Once you fall in my claws, it's all over"

                  "Civelized society has no place for me. 
                   I will let you leave with your life ... if you leave now."
                   

                  "You are the trash of the desert. And I am the one who will celebrate at your grave." 

My theories
Toa and Glatorian will meet and fight (maybe against Makuta or the Skrall)
There will be Matoran/Agori of energy, plasma, ...
There will be more Turaga, maybe from plasma, energy, ...
More planets will appear with villagers and large protectors, some are very advanced, others (like bara magna) not.
Sets i own
MATA NUI
METRU NUI
VOYA NUI
MAHRI NUI
KARDA NUI & THE SWAMP OF SECRETS
BARA MAGNA
Community content is available under
CC-BY-SA
unless otherwise noted.