Vapor Trident

Weapon Information
Power
Channel Water powers
Function
User(s)
Kiina
Status
In Use
The Vapor Trident was a trident wielded by Kiina. It, like every other weapon on Bara Magna, had no powers. The only known user of this weapon was Kiina.
Some time after Mata Nui crash-landed on Bara Magna, he gave Kiina elemental water powers. She could then use them through her trident.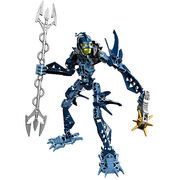 Users
Set Information
The Vapor Trident was released with Kiina in summer 2009.
It was constructed using two identical pieces connected by Kiina's hand
Trivia